La comédie musicale de Stephen Sondheim créée en 1970 à Broadway fait son grand retour à Londres.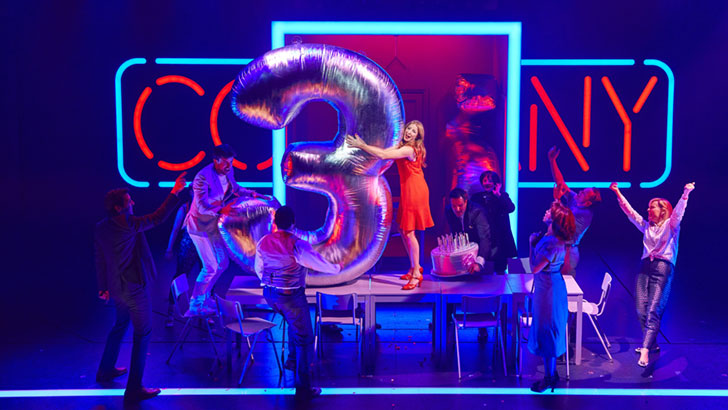 Pour cette reprise tant attendue, le rôle de Bobby, qui est habituellement un homme est interprété par la fabuleuse Rosalie Craig. Il a d'ailleurs fallu convaincre le compositeur Stephen Sondheim de laisser ce rôle à une femme : il n'a pas pu résister au talent de la comédienne. De ce fait, d'autres rôles ont également été inversés: Amy devient Jamie, April devient Andy, etc. Certaines chansons ont donc été revisitées comme « You Could Drive A Person Crazy » dont le style barbershop music est un délice.
Si les rôles sont inversés, l'histoire reste inchangée et a peut-être encore plus d'impact. On observe aujourd'hui encore une pression sociale sur les femmes dans la trentaine qui ne sont pas mariées et pour qui l'horloge biologique tourne.

L'histoire
Le spectacle est centré autour de Bobbie, célibataire, qui fête ses 35 ans, et qui a peur de s'engager dans une relation stable. Bobbie réévalue sa vie et passe en revue ses relations avec ses amis mariés ainsi qu'avec ses petits amis. Tous les amis de Bobbie veulent absolument lui trouver un mari alors qu'elle n'a pas l'intention de se marier de si tôt. Cette comédie musicale permet un aperçu de différents types de couples et personnalités, tous plus fous et touchants dans leur dysfonctionnement.
L'histoire est transposée dans notre société avec l'utilisation de téléphones et d'ordinateurs sans en abuser. La comédie musicale s'adapte parfaitement et semble particulièrement pertinente dans notre époque féministe.
Si la comédie musicale n'est pas que comédie. C'est une belle réflexion sur la vie, le mariage et les attentes de son entourage.
Découvrez une partie du cast de Company et « Being Alive » interprété par Rosalie Craig:
La mise en scène est signée Marianne Elliott. On reconnait bien sa patte artistique: elle fait évoluer les acteurs sur scène avec l'utilisation de cubes lumineux et en portant une attention particulière aux possibilités corporelle des acteurs.
Elle a déjà été récompensée pour ses mises en scène de War Horse et The Curious Incident of the Dog in the Night-Time. Ces deux pièces sont d'ailleurs reprises en novembre dans la capitale anglaise : War Horse retourne au National Theatre et Curious Incident au Piccadilly Theatre.
On applaudit le travail collaboratif de l'équipe créative.  La scénographie de Bunny Christie est très ingénieuse dans l'utilisation de l'espace et en parfaite harmonie avec les lumières de Neil Austin.
Nous n'oublions pas la musique de Stephen Sondheim qui est toujours aussi intrigante. Il y a quelque chose de très excitant quand on re-découvre cette musique et la voit prendre vie sur scène. La musique prend tout son sens à travers des personnages et l'on admire Sondheim pour son travail si bien réfléchit.
Dans le cast, nous retrouvons la formidable Rosalie Craig en Bobbie, Mel Giedroyc en Sarah et la Reine de Broadway Patti LuPone en Joanne (rôle qu'elle a déjà interprété!). Nous applaudissons particulièrement la prestation de Jonathan Bailey en Jamie et dont la chanson « Not Getting Married Today » a fait pleurer de rire la salle comble. Bien sûr, Patti LuPone est tout simplement incroyable: drôle et franche, elle a l'entière attention du public dès qu'elle est sur scène.
Je vous conseille de réserver vos places rapidement car le spectacle est un régal! C'est par ici!