La comédie musicale hilarante des Monthy Python débarque à Paris en septembre 2023.
Une production Stage Entertainment
C'est Stage Entertainment qui a annoncé la bonne nouvelle dans un communiqué de presse. La comédie musicale Spamalot revient 10 ans après son succès à Paris, d'abord au Comédie en 2010 puis à Bobino en 2013. On y retrouvait Arnaud Ducret et Andy Cocq dans la mise en scène de Pierre-François Martin-Laval. Pour ce retour, Pierre-François Martin-Laval reprend sa mise en scène !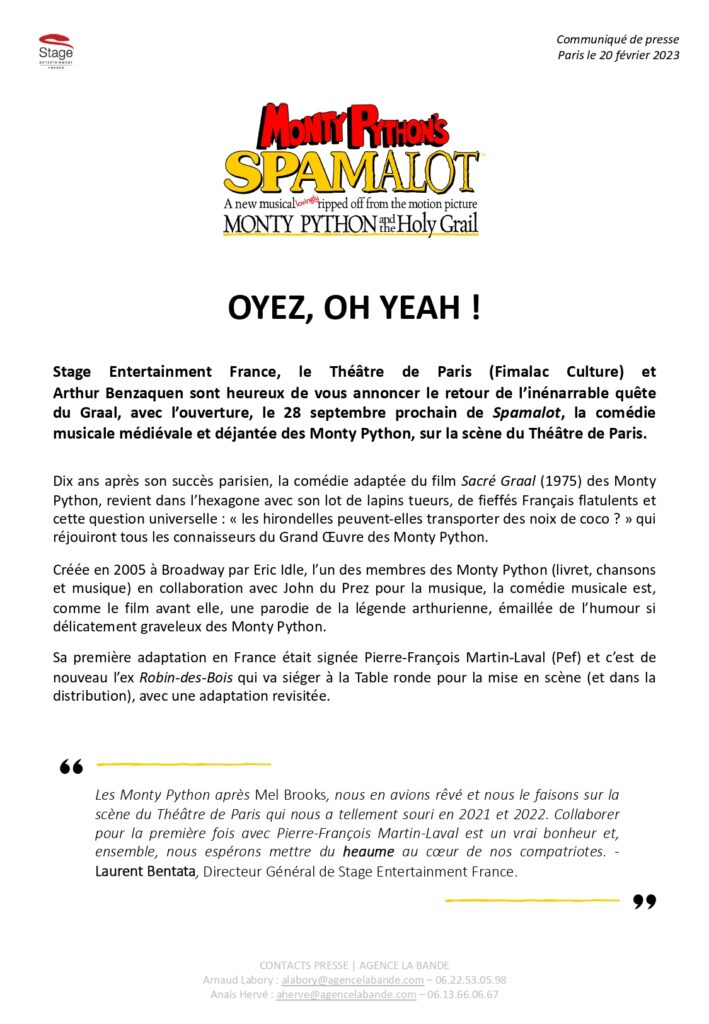 Une histoire et des chansons hilarantes
Qui dit Monthy Python dit des sketchs à gogo et chansons à pleurer de rire. La comédie musicale est une adaptation du film de 1975 Sacré Graal !. C'est l'un des Monthy Python, Eric Idle qui l'a adapté sur scène, avec les musiques de John Du Prez. L'histoire reprend la légende du roi Arthur avec des gags à gogo.
Pour ce qui est de la musique, on retient « His Name is Lancelot », la chanson disco où l'on pousse Lancelot à avouer son homosexualité ou encore « Whatever Happened To My Part » où la dame du lac se lamente de ne pas être assez sur scène. Et puis bien sûr, l'hymne final, « Always Look on the Bright Side of Life » sait mettre du baume au cœur.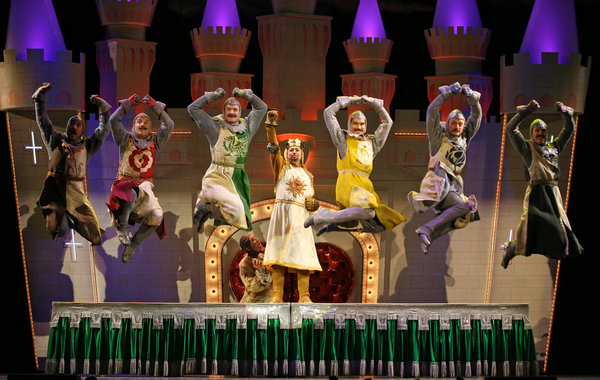 Pour tout savoir sur la comédie musicale Spamalot, c'est par ici.
En 2021, il était question que la comédie musicale soit adaptée en film, mais pas de nouvelles depuis… Toujours est il que l'on est bien excités de revoir cette version scénique à Paris !